I'll be honest, I am not much of a routine type of gal. It drives me nuts, but they say– a good blogger must be consistent, so here I am again with my three lists of recommendations. Why three you may wonder? Because "One is the loneliest number that you'll ever do. Two can be as bad as one. It's the loneliest number since the number one" I quote the classic song to whom I don't know who the artist is haha (let me know if you know!) Yeah, I like three because it's not lonely! So, three it is!
Since I am number one in my universe (I have no one to love so I love myself), the first game on my list I introduce to you folks today is Cat Lady.
If you never heard anything about this game, you would think about a lone suicidal woman who lives by herself (ouch that hurts! I am single, but not suicidal). Well technically there is some partial truth to it, but it's more of a comedy than horror. Sometimes I get horror mixed up with comedy. Let's just say I have a morbid sense of humor, it can't be helped! The game is well thought out, poetic, and flows really well. I bought it on Steam for $1.99. Currently, it is $9.99. Wait for it to go on sale, it sure beats a cup of coffee at Starbucks any time! If you are suffering from depression, it will make you come out stronger. I love the message.
Now number 2 goes to Detention!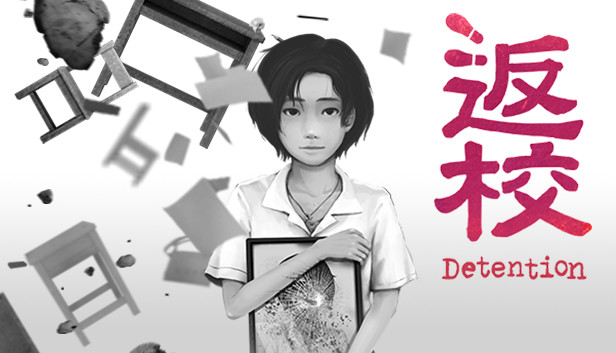 This is one from Redcandlegames, a Taiwanese developer. If you like Silent Hill 2 sort atmosphere then this is the game–even though it's a point and click. The illustration is very nice and the monsters are scary and cute. One thing I liked about this game is how realistic the protagonist is as a female character. She is realistically feminine and therefore, relatable. Should check it out if you haven't already.
Now final but not least! Death Mark!
This is a visual novel game that I really enjoyed. The soundtrack and the illustration are pretty good. It's really like reading a horror novel. It is suspenseful and the story is intriguing enough to keep me on my toes. I love it so much I played the sequel: Spirit Hunter NG. Rest assured, if you are the type who gets scared easily, it will not make you pee in your pants or die from shock as we see in House on Haunted Hill (1999). I am referring to the amusement park scene. In my opinion, the Japanese are masters at telling horror stories. That's why I am so addicted to the genre. If you are more curious about this game click on the title above for my review.